Find automotive suppliers, Ensure quality
Are you looking for automotive suppliers for body components, surface finishing or car IT? 7Q1 finds the best ones!
FIND AUTOMOTIVE SUPPLIERS
Electromobility, smart technologies, autonomous driving - the automotive industry is undergoing the greatest transformation in its history. Technological, environmental and social megatrends are fundamentally changing the subject of mobility. And yet, despite all the innovation, the core business continues as normal.
For procurement in the automotive industry, this leads to more than one challenge: on the one hand, there is a clear focus on ensuring production supply, risk minimization through experienced suppliers, and strict cost control in the case of high volumes. On the other hand, there is the tendering of new products and the strategic exploration of innovative technologies and the identification of appropriate business partners. The procurement markets are highly competitive, globalization and market transparency in procurement are crucial.
From 7 questions to
perfect fitting suppliers
With 7Q1, you can specifically find the best automotive suppliers - worldwide and language-independent. Adjust the artificial intelligence individually for your requirements. For example, let it search for specific certificates or for suppliers with automotive experience. In max. 30 hours, you will receive a longlist of perfectly suitable suppliers. Use your time for strategic tasks and let 7Q1 do all other work for you.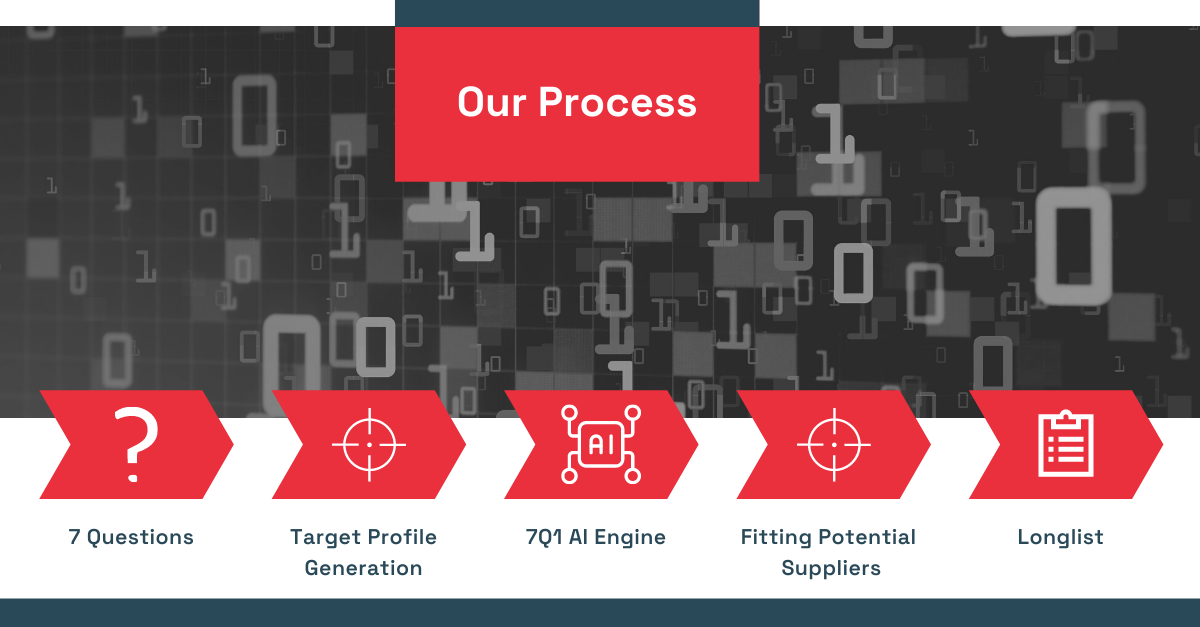 Fully automated AI-based search

Minimal effort to start a search

All results within max. 30 hours

Global identification of suppliers due to independence regarding languages

Integratability into existing systems ensured