Build strategic partnerships, Find competent suppliers, Ensure quality
You are looking for suppliers for raw materials, process engineering or indirect consumables?
7Q1 offers a new boost in the search for suppliers.
Find suppliers for the pharmaceutical industry
In the pharmaceutical industry in particular, purchasing focuses on price and quotation analyses in addition to bottleneck management. Other important topics such as finding high-quality suppliers often have to take a back seat at this point. However, challenges such as scarce raw materials, rising logistics costs and complex product structures demand ever more flexibility from the supplier portfolio. Added to this is the increasing dynamism on the procurement market driven by globalization.
7Q1 assists you in locating suppliers efficiently and cost-effectively. With 7Q1, you can find suitable suppliers fully automatically in less than 30 hours. This is how 7Q1's artificial intelligence manages to ideally complement your very own individual supplier portfolio and support you in meeting the challenges of modern purchasing.
Find the perfect supplier by asking yourself 7 questions
7Q1 helps you find the best suppliers in a highly targeted manner – worldwide and irrespective of language. It allows you to configure the artificial intelligence individually to meet your specific requirements. For instance, run a search that specifically looks for manufacturing processes or for suppliers with corresponding industry experience. Within a maximum of 30 hours, you will be presented with a longlist of suppliers that perfectly match your needs – and in the meantime you can devote your time to strategic tasks.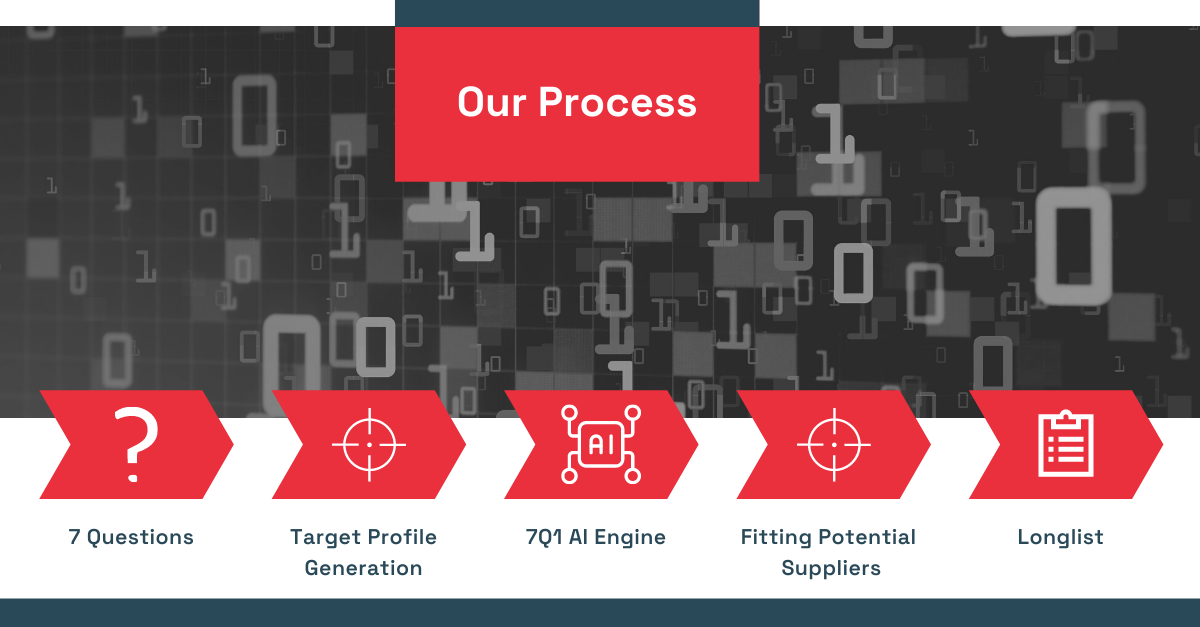 Fully automated AI-based search

Minimal effort to start a search

All results within max. 30 hours

Global identification of suppliers due to independence regarding languages

Integratability into existing systems ensured