Use Cases with 7Q1
Use 7Q1 to optimize your supply chain and improve strategic procurement
Successful supply chain management depends on numerous factors. Efficient and professionally organized purchasing plays a key role in this. Numerous use cases may require the search for new suppliers in strategic procurement. 7Q1 supports you in all use cases and challenges in the procurement process.
Globalization of procurement
If you want to remain competitive in the international arena, you have to scout and source beyond your own nose. The focus on established structures and regionally known suppliers is no longer appropriate. With 7Q1, you can find the best suppliers for your business worldwide and independent of language. Quickly discover new procurement markets and obtain a basis for decision-making for your TCO analysis and the globalization of your procurement.
Second Sourcing
A reliable supplier is good - multiple suppliers for your critical components are better. With a second source, you minimize the risk in the event of a failure and create resilience for your production. 7Q1 automatically finds the best alternative suppliers for you - for all material groups and across all your products or services. So you don't have to engage in task force sourcing - Use the results of 7Q1 also as an argument for the next price negotiation with your current suppliers.
From 7 questions to
perfect fitting suppliers
By answering seven questions and determining the resulting requirements, you playfully configure the AI-based search engine. No matter whether for direct, indirect material or for services: You get first results in the shortest time.
Adjust the AI algorithms to your individual needs
7Q1 offers you the possibility to adjust the AI algorithms without specific knowledge and to configure them individually for your needs.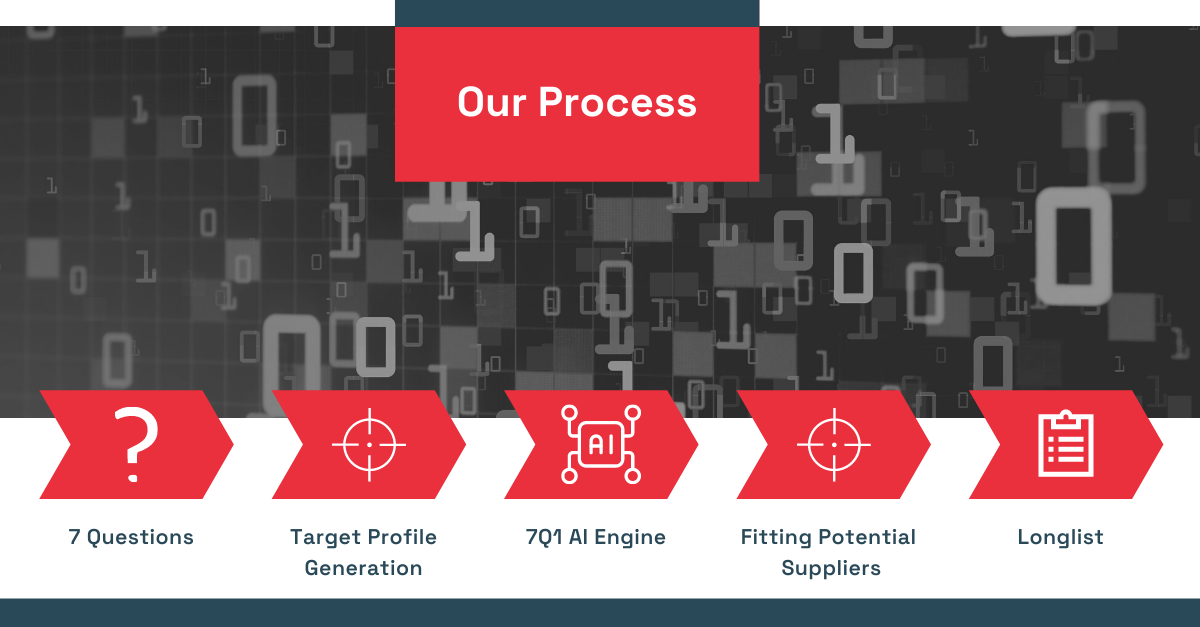 New awards
Planned sourcing and new awards are part of the daily routine of every procurement department. Make your daily routine more efficient and leave time-consuming searches to our AI: Based on your individual configuration, the 7Q1 algorithm finds the best suppliers for your (new) product, while you can concentrate on value-adding activities. The ideal support for new tenders and your launch management.
Price benchmarks
Procurement is where the profit is realized. In order to reliably identify savings potential and consistently implement price savings, you need a solid data basis. 7Q1 supports you in your global price benchmarking: with a longlist of up to 100 perfectly matching suppliers. With the help of our data integration to all common tendering platforms, you can tender broadly and compare prices - and you'll be ideally equipped for the next supplier negotiation.

Local for local sourcing
The launch of a new location requires the establishment of new structures - also in procurement. New suppliers have to be found, and local content is often explicitly prescribed. You don't know your way around the new environment yet? Our AI-based supplier search does. 7Q1 helps you to ensure the availability of production-relevant resources, materials and preliminary products as well as services. Get results in a short time, even at the new location - worldwide and language-independent.

Task force sourcing
A supplier has dropped out and you need to find a replacement supplier at short notice? In such "task force sourcing", speed and efficiency count! With the help of Big Data and Artificial Intelligence, 7Q1 helps you find suitable alternatives overnight. The relevant contact data is immediately available in your personal longlist. 7Q1 allows you to avoid downtimes and quickly restore short-term production supply.
Fully automated AI-based search

Minimal effort to start a search

All results within max. 30 hours

Global identification of suppliers due to independence regarding languages

Integratability into existing systems ensured