Find automotive suppliers, Ensure quality
Are you looking for automotive suppliers for body components, surface finishing or car IT?
7Q1 finds the best ones!
FIND AUTOMOTIVE SUPPLIERS
Electromobility, smart technologies, autonomous driving - the automotive industry is undergoing the greatest transformation in its history. Technological, environmental and social megatrends are fundamentally changing the subject of mobility. And yet, despite all the innovation, the core business continues as normal.
For procurement in the automotive industry, this leads to more than one challenge: on the one hand, there is a clear focus on ensuring production supply, risk minimization through experienced suppliers, and strict cost control in the case of high volumes. On the other hand, there is the tendering of new products and the strategic exploration of innovative technologies and the identification of appropriate business partners. The procurement markets are highly competitive, globalization and market transparency in procurement are crucial.
Find the perfect supplier by asking yourself 7 questions
7Q1 helps you find the best automotive suppliers in a highly targeted manner – worldwide and irrespective of language. It allows you to configure the artificial intelligence individually to meet your specific requirements. For instance, run a search that specifically looks for certain certificates or for suppliers with automotive experience. Within a maximum of 30 hours, you will be presented with a longlist of suppliers that perfectly match your needs – and in the meantime you can devote your time to strategic tasks.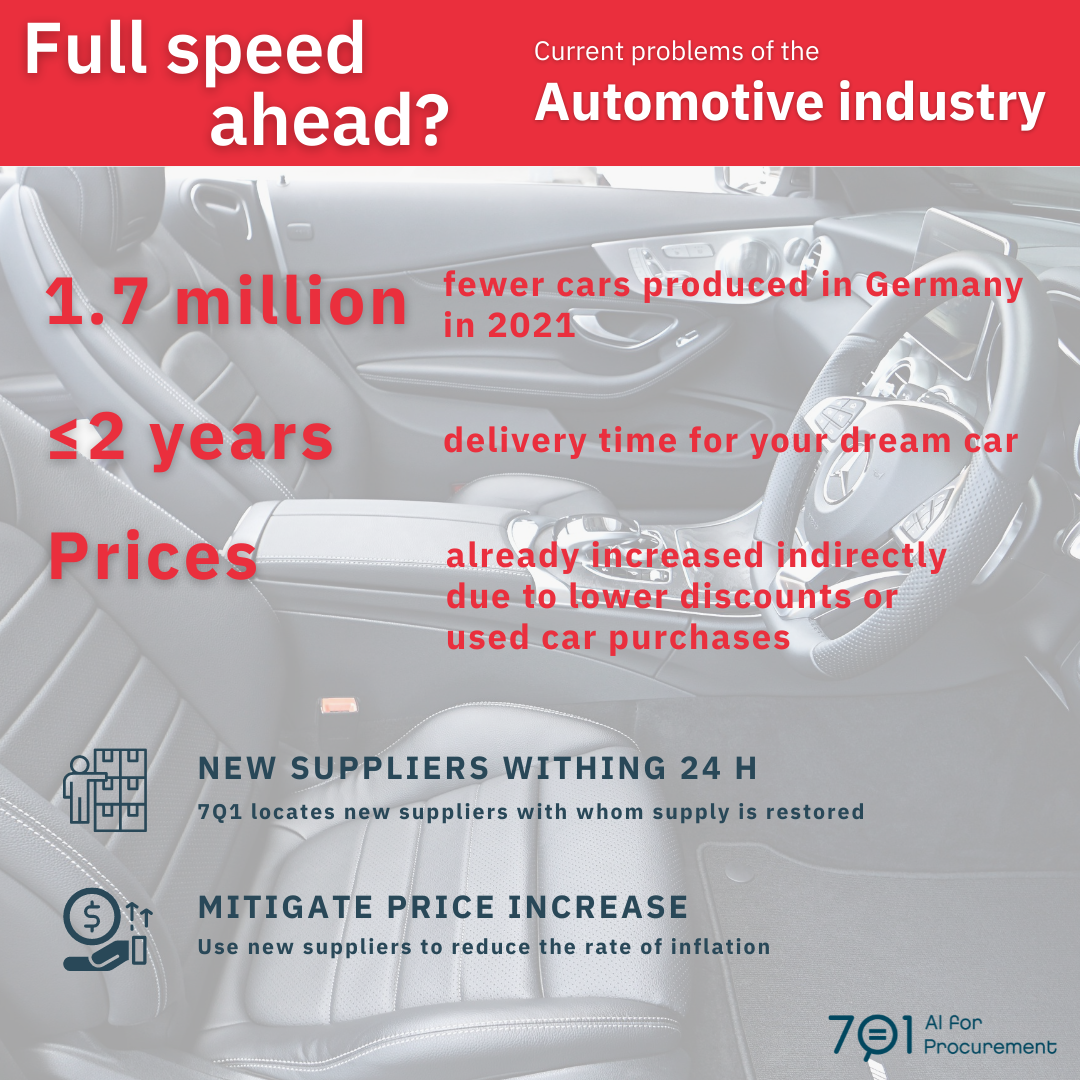 References
You would like to get an exclusive insight into our platform?
Then take part in one of our free onboarding webinars now! We will guide you step by step through our supplier search and explain what you should pay attention to. Tedious research was yesterday – launch a fully automated search by choosing 7Q1!